Citrus fruits are bursting with nutrients like vitamin C and antioxidants that have been shown to help strengthen your immune system and fight off disease. Choosing whole fruits over juice gives you additional fiber to meet your healthy-eating goals.
6 cups arugula
2 1/2 lbs. various citrus, peeled and sliced
3/4 cup toasted walnuts
3/4 cup crumbled feta cheese
2 tbsp. chia seeds
1/2 cup Panera Poppyseed Dressing
Arrange first five ingredients on a large platter (or toss together in a large bowl). Divide among four bowls and drizzle each with 2 tablespoons dressing.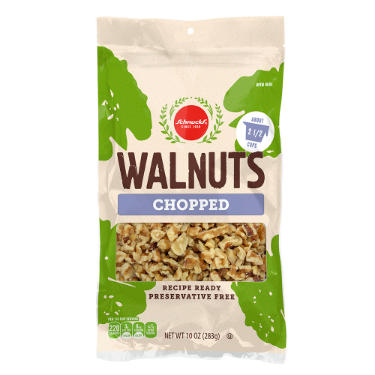 Save 10%
Schnucks
Walnuts (10oz)
Clip by Feb 23, 2021
Use by Feb 23, 2021
Details
10% off Schnucks Walnuts (10 oz. bag-Chopped or Halves & Pieces)-Limit 2 per account
Limit of TWO per redemption per coupon. Identical coupon, including a digital or paper coupon, may not be used in same purchase transaction with this coupon. Limit one use of this coupon or identical coupon per account. Any other use constitutes fraud. Coupons are not authorized if purchasing products for resale. Coupons not valid on schnucksdelivers.com. VOID if transferred, sold, auctioned, reproduced or altered from original. You may pay sales tax.
FAT: 24G
SATURATED FAT: 5G
CHOLESTEROL: 25MG
SODIUM: 430MG
CARBOHYDRATES: 41G
FIBER: 9G
SUGAR: 22G
PROTEIN: 11G