Some like it sweet, some like it spicy—we choose both.
1 1/2 cups Schnucks apple cider vinegar
1 tbsp. packed brown sugar
1/4 tsp. cayenne pepper
5–6 cups hickory or oak wood chips, soaked for 1 hour
2 (2 lb.) slabs St. Louis-style pork ribs, membrane removed
Sweet and Spicy Dry Rub (see notes)
Schnucks barbecue sauce of choice, to serve
For mop sauce, in a small saucepan combine vinegar, brown sugar and cayenne. Add 1/4 cup water and 1/2 teaspoon each salt and black pepper. Cook and stir over medium heat until just simmering and salt is dissolved. Set aside.
Meanwhile, prepare grill for indirect cooking. Place about 1 cup of the soaked wood chips directly on charcoal or in smoking box of gas grill. Cover ribs with spice rub.
Place ribs, bone-side down, in center of grill or in rib rack, making sure they are not over direct flame. Cover and grill 2 - 2 1/2 hours or until meat is tender and has pulled back from ends of bones, replenishing wood chips in grill and gently brushing mop sauce over ribs every 30 minutes.
Remove ribs from grill and let stand 10 minutes. Cut into portions and serve with barbecue sauce, if desired.
In a small bowl, combine the below ingredients and stir to combine.
1/8 cup packed brown sugar
1/8 cup black pepper
1 tbsp. paprika
1/2 tbsp. salt
1/2 tbsp. chili powder
1/2 tsp. onion powder
1/2 tsp.ground cumin
1/4 tsp. cayenne pepper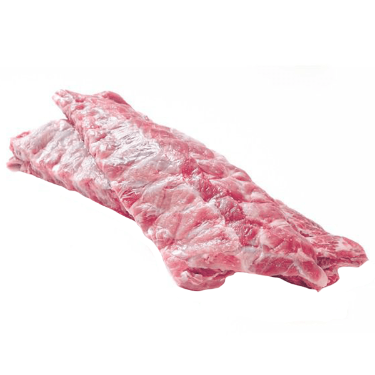 Save 10%
Schnucks
Fresh Pork Ribs
Clip by May 18, 2021
Use by May 18, 2021
Details
10% off Schnucks Fresh Pork Ribs-Limit 2 per account
Limit of TWO per redemption per coupon. Identical coupon, including a digital or paper coupon, may not be used in same purchase transaction with this coupon. Limit one use of this coupon or identical coupon per account. Any other use constitutes fraud. Coupons are not authorized if purchasing products for resale. Coupons not valid on schnucksdelivers.com. VOID if transferred, sold, auctioned, reproduced or altered from original. You may pay sales tax.
FAT: 76G
SATURATED FAT: 25G
CHOLESTEROL: 259MG
SODIUM: 1451MG
CARBOHYDRATES: 15G
FIBER: 2G
SUGAR: 11G
PROTEIN: 51G