Sweet Potato Crust Quiche is a delicious way to start your day. Made with chopped broccoli, red bell pepper, sweet potato and egg, it'll become a morning staple.
2 medium sweet potatoes
2 tsp. Schnucks vegetable oil
8 oz. mushrooms, sliced
1 1/2 cups broccoli florets, chopped
1/2 cup red bell pepper, seeded and diced
1/2 medium onion, diced
6 large Schnucks eggs
1/4 cup low-fat milk
1/4 tsp. Schnucks crushed red pepper
1/3 cup crumbled feta cheese, if desired
1/4 cup Schnucks reduced-fat shredded Cheddar cheese
2 cups Schnucks pineapple
2 cups fresh raspberries
Preheat oven to 350°F. Spray a 9-inch pie dish with cooking spray; line bottom and sides with sweet potato slices and spray again with cooking spray. Bake 20 minutes, remove from oven and increase heat to 375°F.
Heat oil in a medium skillet over medium heat. Add mushrooms and broccoli to skillet and cook 5 minutes. Stir in peppers and onions and cook until softened, about 5 more minutes.
In a medium bowl whisk together eggs, milk and crushed red pepper. Stir in cooked vegetables and feta. Pour mixture into crust and top with Cheddar cheese. Bake until eggs are completely set, about 35 minutes. Allow to cool 5 minutes. Slice and serve imediately with fruit on side.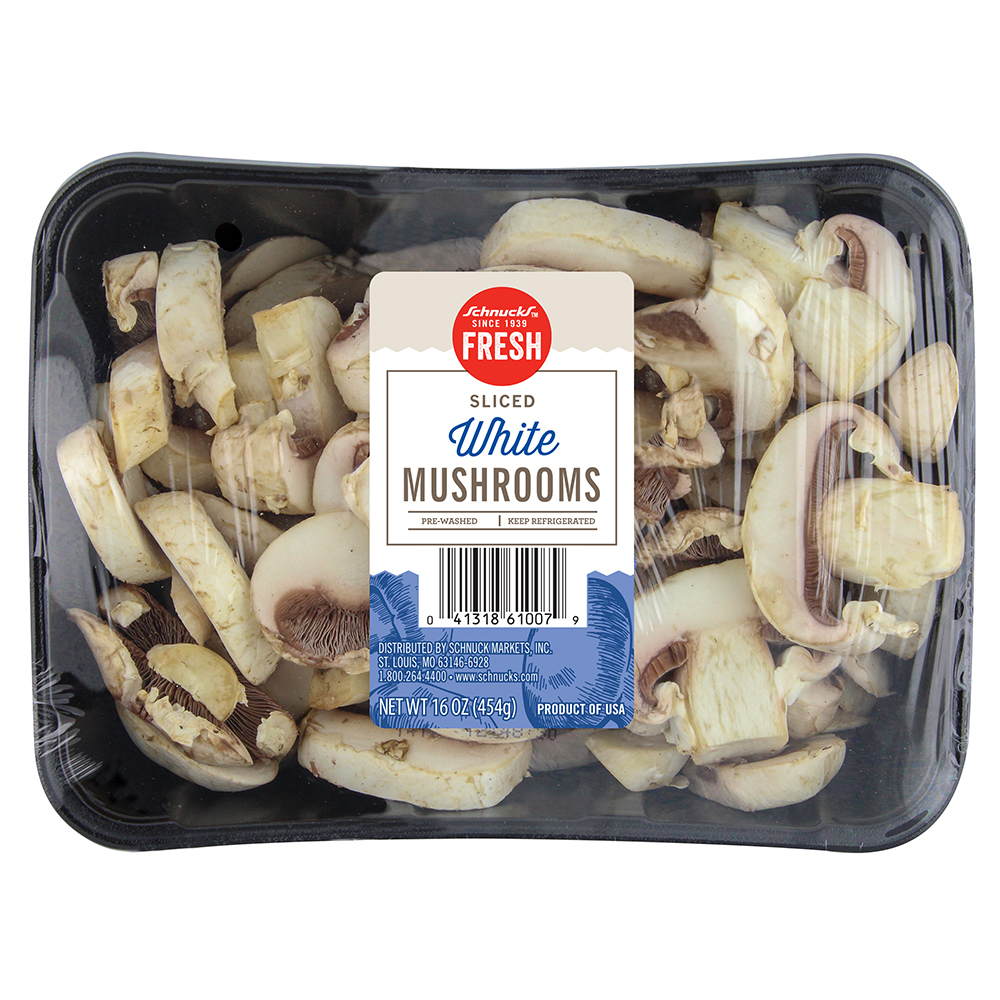 Save 5%
Schnucks
Mushrooms (packaged only)
Clip by Apr 20, 2021
Use by Apr 20, 2021
Details
5% off Schnucks Mushrooms (packaged only)-Limit 2 per account (SD)
Limit of TWO per redemption per coupon. Identical coupon, including a digital or paper coupon, may not be used in same purchase transaction with this coupon. Limit one use of this coupon or identical coupon per account. Any other use constitutes fraud. Coupons are not authorized if purchasing products for resale. Coupons not valid on schnucksdelivers.com. VOID if transferred, sold, auctioned, reproduced or altered from original. You may pay sales tax.
FAT: 13G
SATURATED FAT: 4G
CHOLESTEROL: 285MG
SODIUM: 210MG
CARBOHYDRATES: 38G
FIBER: 9G
SUGAR: 17G
PROTEIN: 17G
Actual nutritional values may vary depending on specific ingredients used and/or modifications to the recipe.