Mix this cocktail, close your eyes and let the tropical flavors take your imagination to a beautiful white sandy beach.
2 oz. Fresh Victor Cactus Pear & Pomegranate
1 1/2 oz. dark rum
1 oz. Fresh Victor Pineapple & Ginger Root
3/4 oz. Campari
pineapple wedge, pineapple leaves, and maraschino cherries, for garnish
Add all ingredients except for garnishes in a cocktail shaker and shake.
Strain into a tall cocktail glass and add garnishes.
Fresh Victor cocktail mixers are made with 100% fresh ingredients and offered in seven perfectly balanced flavors. These mixers are the easiest way to enjoy a well-crafted cocktail from the comfort of your home.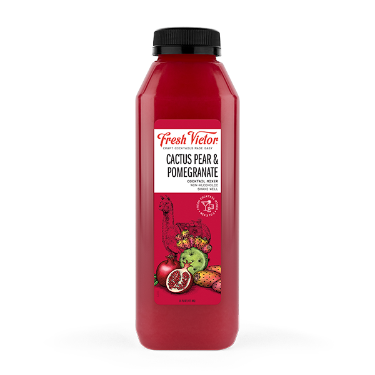 Save $1
Fresh Victor
Cocktail Mixers (16oz)
Clip by Mar 23, 2021
Use by Mar 23, 2021
Details
Save $1.00 on Fresh Victor Cocktail Mixers (16 oz. bottle-All varieties)-Limit 5 per account
Limit of FIVE per redemption per coupon. Identical coupon, including a digital or paper coupon, may not be used in same purchase transaction with this coupon. Limit one use of this coupon or identical coupon per account. Any other use constitutes fraud. Coupons are not authorized if purchasing products for resale. Coupons not valid on schnucksdelivers.com. VOID if transferred, sold, auctioned, reproduced or altered from original. You may pay sales tax.