Make the swap to sweet potatoes to give your dinner a nutrition boost. Compared to white potatoes, sweet potatoes contain fewer calories and provide a significantly higher amount of vitamin A along with higher amounts of Vitamin C, fiber and calcium.
Plus, this recipe uses Natural Delights Medjool Dates that provide everyday energy from healthy nutrients like potassium and fiber to fuel your next adventure.
4 large sweet potatoes
1/2 red onion, chopped
1 shredded carrot (about 1/2 cup)
1 tsp. garlic powder
1 tbsp. chili powder
1/2 tsp. cinnamon
1 lb. extra-lean ground turkey
1 (16 oz.) pkg. Schnucks frozen cut leaf spinach, thawed
1 jalapeño, thinly sliced
1 (15 oz.) can no-salt-added diced tomatoes
1 cup Full Circle low-sodium chicken broth
1/4 cup sliced green olives
1/2 cup Natural Delight Pitted Fresh Medjool dates, finely chopped
1/4 cup Schnucks plain Greek yogurt
cilantro, for garnish
slivered almonds, for garnish
Preheat oven to 425 degrees. Pierce potatoes all over with a fork and place on an aluminum foil-lined baking sheet; bake until tender, about 50 minutes.
While potatoes bake, warm a large skillet over medium-high heat. Add onion and carrot; cook until soft, 4 minutes. Add garlic powder, chili powder and cinnamon and cook 1 more minute.
Add ground turkey and cook until browned, about 5 minutes. Stir in spinach, jalapeño, tomato, chicken broth, green olives and dates. Simmer for 5–7 minutes until mixture thickens. Keep warm.
Remove potatoes from oven. Slice open and mash insides with a fork; divide picadillo mixture among potatoes and top with Greek yogurt, cilantro and almonds.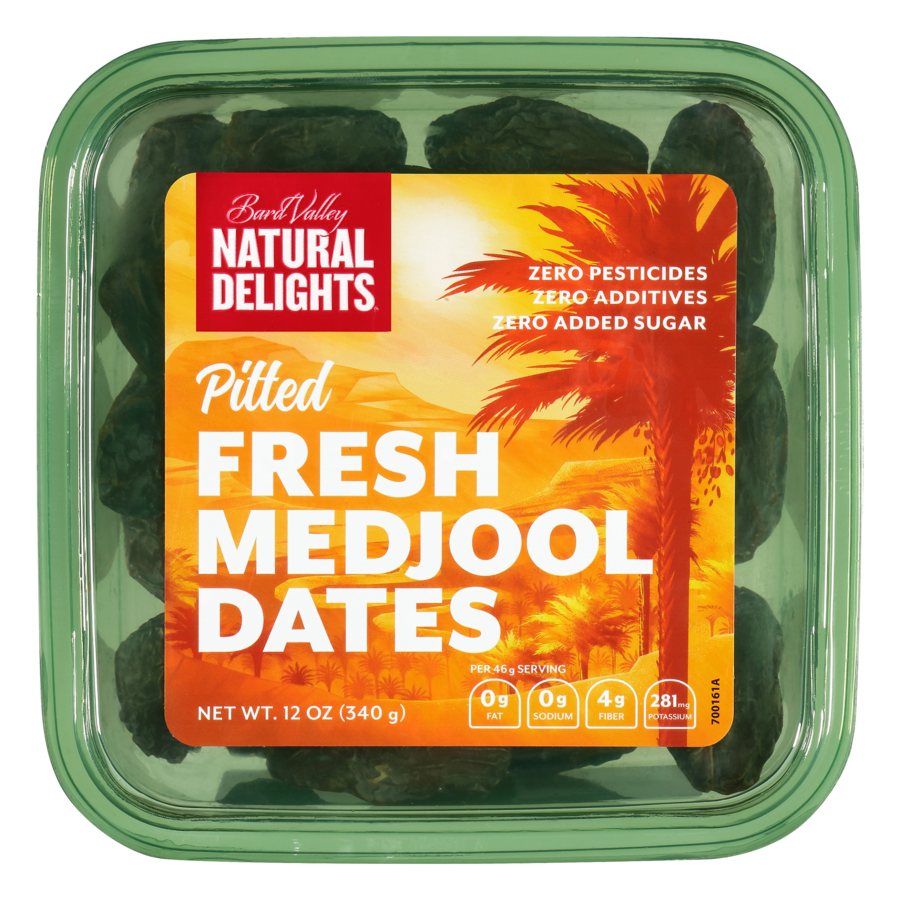 Save 50%
Bard Valley
Natural Delights Pitted Fresh Medjool Dates (12oz)
Clip by Mar 23, 2021
Use by Mar 23, 2021
Details
50% off Bard Valley Natural Delights Pitted Fresh Medjool Dates (12 oz. pkg.)-Limit 5 per account
Limit of FIVE per redemption per coupon. Identical coupon, including a digital or paper coupon, may not be used in same purchase transaction with this coupon. Limit one use of this coupon or identical coupon per account. Any other use constitutes fraud. Coupons are not authorized if purchasing products for resale. Coupons not valid on schnucksdelivers.com. VOID if transferred, sold, auctioned, reproduced or altered from original. You may pay sales tax.
FAT: 6G
SATURATED FAT: 1G
CHOLESTEROL: 55MG
SODIUM: 330MG
CARBOHYDRATES: 82G
FIBER: 12G
SUGAR: 21G
PROTEIN: 38G