Fact: 'Going green' is better with bacon and French's® Crispy Fried Onions. Cook asparagus and top with a mish mash of crispy textures and sweet n' tangy tastes. Drizzle with a Dijon Mustard glaze and sprinkle with Crispy Fried Onions and bacon for a quick and tasty veggie side.
2 tbsp. French's® Chardonnay Dijon Mustard Squeeze Bottle
1 tbsp. honey
1 tbsp. red wine vinegar
1/4 tsp. McCormick® Pure Ground Black Pepper
1 lb. asparagus, trimmed
5 slices bacon, cut into 1/2-inch pieces
1 cup French's® Original Crispy Fried Onions
MIX Mustard, honey, vinegar and pepper in large bowl. Set aside.
COOK asparagus in boiling water in large uncovered skillet on medium-high heat 3 minutes or until tender-crisp. Drain well. Toss with mustard dressing in bowl; keep warm.
IN the same skillet, cook bacon over medium heat until crispy, about 3 to 5 minutes. Stir in Crispy Fried Onions; cook and stir 2 minutes or until golden. Sprinkle bacon mixture over asparagus. Serve immediately.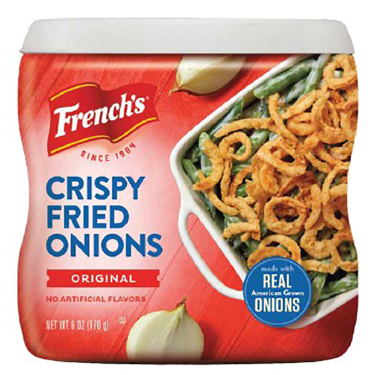 Save $0.50
McCormick
Crispy Fried Onion (6oz)
Clip by Apr 06, 2021
Use by Apr 06, 2021
Details
Save $0.50 on French's Crispy Fried Onion (6 oz. pkg.-Original or White Cheddar)-Limit 1 per account
Limit of ONE per redemption per coupon. Identical coupon, including a digital or paper coupon, may not be used in same purchase transaction with this coupon. Limit one use of this coupon or identical coupon per account. Any other use constitutes fraud. Coupons are not authorized if purchasing products for resale. Coupons not valid on schnucksdelivers.com. VOID if transferred, sold, auctioned, reproduced or altered from original. You may pay sales tax.
FAT: 14G
CHOLESTEROL: 15MG
SODIUM: 325MG
CARBOHYDRATES: 10G
FIBER: 2G
PROTEIN: 5G