Fill up on this cheesy Mexican style chicken casserole.
1 pkg. Schnucks shredded sharp Cheddar cheese, divided
1 Schnucks herb whole roasted chicken, skin removed and meat shredded
1 can Schnucks dark red kidney beans, rinsed and drained
1 can Schnucks Mexican style diced tomatoes, drained
1 can condensed cream of mushroom soup
1 cup Schnucks frozen corn
1 cup Schnucsk frozen green peas
1/2 cup Schnucks sour cream
Preheat oven to 350°F.
Set aside 3/4 cup cheese. In large bowl, combine remaining ingredients. Spread mixture into 2 1/2 quart or 11 x 7" glass or ceramic baking dish.
Sprinkle with reserved cheese. Bake 30 minutes. Let stand 5 minutes before serving.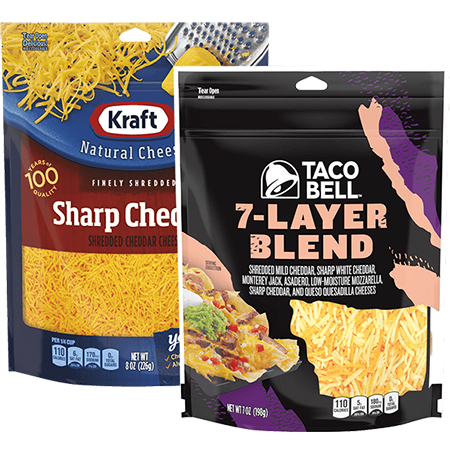 Save 10%
Kraft
Shredded Cheese
Clip by Jun 02, 2020
Use by Jun 02, 2020
Details
10% off Kraft Shredded Cheese (7-8 oz. pkg.-All varieties including Taco Bell) - Limit 4 per account
Limit of FOUR per redemption per coupon. Identical coupon, including a digital or paper coupon, may not be used in same purchase transaction with this coupon. Limit one use of this coupon or identical coupon per account. Any other use constitutes fraud. Coupons are not authorized if purchasing products for resale. Coupons not valid on schnucksdelivers.com. VOID if transferred, sold, auctioned, reproduced or altered from original. You may pay sales tax.
FAT: 11G
SATURATED FAT: 5G
CHOLESTEROL: 80MG
SODIUM: 1130MG
CARBOHYDRATES: 24G
FIBER: 7G
PROTEIN: 39G
Actual nutritional values may vary depending on specific ingredients used and/or modifications to the recipe.