This crackle pop recipe is grand-slam worthy.
1 bag (3.2 oz) butter-flavored microwave popcorn
1/2 cup Schnucks salted butter
1 cup packed Schnucks light brown sugar
1/4 cup Schnucks light corn syrup
1/2 tsp. salt
1/2 tsp. Schnucks pure vanilla extract
1/4 tsp. Schnucks baking soda
3/4 cup lightly salted peanuts
Preheat oven to 250°F. Prepare popcorn as label directs. Transfer popcorn to large bowl; remove any unpopped kernels.
Meanwhile, in medium saucepot, melt butter over medium heat. With wooden spoon, stir in brown sugar, corn syrup and salt. Heat to boiling over high heat, stirring constantly. Boil 4 minutes (if using, candy thermometer should read 240°F), stirring frequently; caramel should be golden brown. Remove saucepot from heat; stir in vanilla and baking soda. Caramel sauce will foam up when baking soda is added.
Pour hot sauce over popcorn; add peanuts. With wooden spoon, fold popcorn mixture until popcorn and peanuts are evenly coated with sauce. Transfer popcorn mixture to rimmed baking pan; bake 30 minutes, stirring once halfway through baking.
Cool completely in pan on wire rack. Transfer Crackle Pop to airtight container and store at room temperature up to 1 week.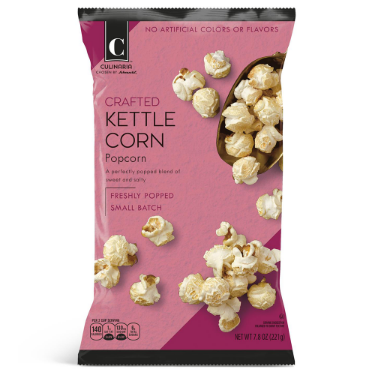 Save 5%
Culinaria
Kettle Chips & Popcorn
Clip by Apr 13, 2021
Use by Apr 13, 2021
Details
5% off Culinaria Kettle Chips & Popcorn (7-8 oz. bag-All varieties)-Limit 2 per account
Limit of TWO per redemption per coupon. Identical coupon, including a digital or paper coupon, may not be used in same purchase transaction with this coupon. Limit one use of this coupon or identical coupon per account. Any other use constitutes fraud. Coupons are not authorized if purchasing products for resale. Coupons not valid on schnucksdelivers.com. VOID if transferred, sold, auctioned, reproduced or altered from original. You may pay sales tax.
FAT: 24G
SATURATED FAT: 12G
CHOLESTEROL: 41MG
SODIUM: 440MF
CARBOHYDRATES: 58G
FIBER: 3G
SUGAR: 40G
PROTEIN: 7G