In three simple steps, you can have a power-packed meal, complete with over 30 grams of protein. Just blend, pour and add nutritious toppings for an easy weekday lunch.
Plus, this recipe uses Greek yogurt to help keep your body going strong with high-quality protein, calcium and Vitamin D.
2 cups ice cubes
1 cup Schnucks Plain Greek Yogurt
2 bananas, divided
1/2 cup Almond Breeze Unsweetened Chocolate Almond Milk
4 scoops Nature's Truth Vitamins Ultra Unflavored Collagen Powder
2 tbsp. unsweetened cocoa powder
2 tbsp. Full Circle Organic Creamy Almond Butter
1/8 tsp. cayenne powder
2 tbsp. Culinaria Oats and Honey Granola
2 tbsp. sliced almonds
1 tbsp. chia seeds
In a blender combine ice, yogurt, one banana, almond milk, collagen powder, cocoa powder, almond butter and cayenne powder. Blend until smooth.
Divide shake between two shallow bowls.
Slice remaining banana. Top bowls with sliced banana, granola, almonds, chia seeds and more cayenne, if desired.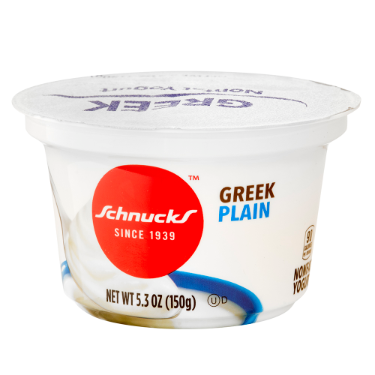 Save 15%
Schnucks
Greek Yogurt
Clip by Feb 16, 2021
Use by Feb 16, 2021
Details
15% off Schnucks Greek Yogurt (5.3 oz. cup or 32 oz. container-All varieties)-Limit 5 per account
Limit of FIVE per redemption per coupon. Identical coupon, including a digital or paper coupon, may not be used in same purchase transaction with this coupon. Limit one use of this coupon or identical coupon per account. Any other use constitutes fraud. Coupons are not authorized if purchasing products for resale. Coupons not valid on schnucksdelivers.com. VOID if transferred, sold, auctioned, reproduced or altered from original. You may pay sales tax.
FAT: 17G
SATURATED FAT: 2G
CHOLESTEROL: 5MG
SODIUM: 135MG
CARBOHYDRATES: 48G
FIBER: 10G
SUGAR: 23G
PROTEIN: 31G