Traditionally served with potatoes or pasta, this dish uses spiralized zucchini for a calorie- and carb-smart alternative. Adding cherry tomatoes helps round out the dish for a boost in flavor and antioxidants.
8 boneless, skinless chicken thighs
1/4 cup plus 1 tbsp. olive oil, divided
1 tbsp. Italian seasoning
8 oz. sliced mushrooms
1 tsp. garlic powder
1 tsp. onion powder
10 oz. cherry tomatoes
2 tbsp. tomato paste
1/2 cup Marsala or sweet red wine
1 cup unsalted chicken broth
1 (12 oz.) pkg. spiralized zucchini
2 tbsp. grated Parmesan cheese
chopped fresh parsley, for garnish
Preheat oven to 400 degrees. Rub chicken thighs with 1/4 cup oil and Italian seasoning. In a large pan over medium-high heat, sear chicken thighs for 3 minutes per side. Transfer to a plate.
Add mushrooms, garlic powder, onion powder and tomatoes to pan and cook for 5–7 minutes until mushrooms and tomatoes are softened. Stir in tomato paste and cook for 1 minute more. Add wine and simmer for another minute, then stir in chicken broth.
Return chicken to pan, cover and cook for 7–10 minutes until chicken reaches 165 degrees. While chicken cooks, toss zucchini with 1 tablespoon oil and roast on a baking sheet for 10 minutes in a 400-degree oven. Sprinkle with Parmesan.
Garnish with chopped parsley and serve over roasted spiralized zucchini.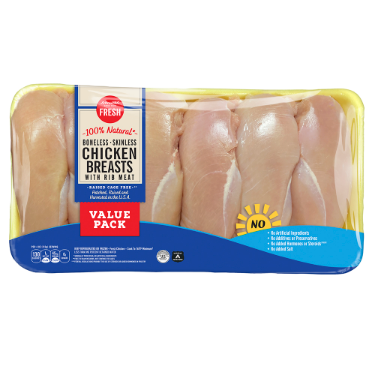 Save 5%
Schnucks
Fresh Chicken
Clip by Feb 23, 2021
Use by Feb 23, 2021
Details
5% off Schnucks Fresh Chicken-Limit 2 per account
Limit of TWO per redemption per coupon. Identical coupon, including a digital or paper coupon, may not be used in same purchase transaction with this coupon. Limit one use of this coupon or identical coupon per account. Any other use constitutes fraud. Coupons are not authorized if purchasing products for resale. Coupons not valid on schnucksdelivers.com. VOID if transferred, sold, auctioned, reproduced or altered from original. You may pay sales tax.
FAT: 28G
SATURATED FAT: 5G
CHOLESTEROL: 195MG
SODIUM: 290MG
CARBOHYDRATES: 14G
FIBER: 3G
SUGAR: 7G
PROTEIN: 50G