Schnucks Frozen Food
Stock Your Freezer
Frozen foods are great to keep on hand for a quick meal or to use in recipes. From fruits and vegetables flash frozen at the peak of ripeness to ready-to-bake pizzas, our frozen department is full of options for your next meal. Be sure to check out Schnucks brand frozen items that deliver quality at a lower cost!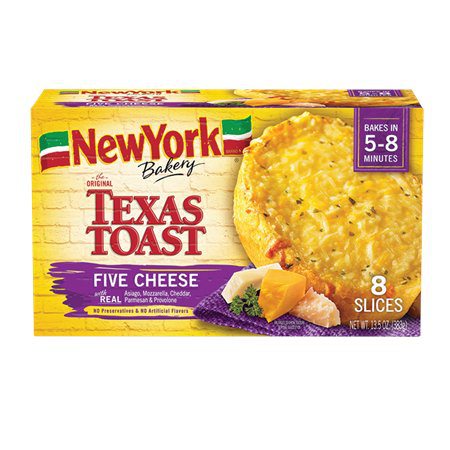 Save $0.75
New York Bakery
Save $0.75 on any ONE (1) New York Bakery Texas Toast
Clip by Oct 15, 2021
Use by Oct 29, 2021
Details
Save $0.75 on any ONE (1) New York Bakery Texas Toast
CONSUMER: This coupon can be redeemed only for the brand specified. Coupons cannot be transferred, reproduced, sold or exchanged. Any other use constitutes fraud. RETAILER: Marzetti will reimburse you the normal face value, plus 8₵ handling, provided you and the consumer have complied with the terms of this offer. Void if copied, transferred, prohibited, taxed or restricted. Customer must pay any sales tax. Any other use constitutes fraud. Cash value 1/100₵. For redemption, mail to: T. Marzetti Company, CMS Dept. 70299, 1 Fawcett Drive, Del Rio, Texas 78840. Limit: One Coupon Per Purchase

Save $1.00
Farm Rich
Save $1.00 on any ONE (1) Farm Rich Product 15oz or larger
Clip by Sep 28, 2021
Use by Oct 28, 2021
Details
Save $1.00 on any ONE (1) Farm Rich Product 15oz or larger
Consumer/Retailer: LIMIT ONE (1) COUPON PER PURCHASE on porduct/quantity specified and MAXIMUM OF ONE (1) IDENTICAL COUPONS allowed in same shopping trip. VOID IF altered, copied, sold, purchased, transferred, exchanged, used to purchase products for resale or where prohibited or restricted by law. Valid only in USA, APOs & FPOs. Consumer pays sales tax. Retailer: We will reimburse you the face value + .08 cents for handling this coupon according to our offer. Any other use constitutes fraud. Cash value 1/20 cents. Mail to Rich Products Corporation. Inmar Dept. #41322 1 Fawcett Dr., Del Rio, TX 78840. (R) 2021 Rich Products Corporation.
Picked at the peak of ripeness and flash frozen, frozen fruits and vegetables maintain their nutritional value and flavors and can be kept on hand much longer and in any season.
Pasta, pesto and peas–who knew salad could be so delicious?
Use brown rice as a base for added fiber and to keep you full longer. Top with quick-pickled vegetables to brighten the dish and add fiber, vitamins and minerals for a healthy meal.
Make the swap to sweet potatoes to give your dinner a nutrition boost. Plus, loaded with nutrient rich ingredients, this potato is well balanced for dinner.
Go meat-free with a vegetarian meatball wrap. Enjoy a high-protein, high-fiber lunch with limited fat and no cholesterol.
Add a healthy serving of roasted vegetables to Smart Ones Three Cheese Ziti Marinara for a perfectly-portioned and easy-to-prepare meal that satisfies those pasta cravings.
Power up your morning with delicious and dunkable Incogmeato Chik'n Nuggets made with 100% plant-based protein. Full of flavor, these crispy nuggets are packed with protein and fiber to keep you full until lunch.
Perfect for a quick lunch or dinner, these hoagies are made with Verde Beef that is 100% grass-fed, free-range and raised without antibiotics or hormones.
Add some sweetness to your oatmeal with the everyone's favorite combo: peanut butter and jelly. Be sure to use Oikos Triple Zero Greek Yogurt for this recipe to add more flavor with 0 added sugar, 0 artificial sweeteners, and 0 fat—plus 15g of protein per serving!
Everyone's favorite rainbow cereal transformed into a fun and fruity smoothie
Create a winning dinner with our Fried Rice with Shrimp and Veggies recipe. Plenty of veggies and protein make it a balanced meal.
Easy Pizza Night
Choose from a wide variety of pizza including local favorites. Frozen pizza is easy to keep stocked in the freezer for when you need a meal ready in minutes!
SHOP NOW
Produce That's Always in Season
Picked at the peak of ripeness and flash frozen, frozen fruits and vegetables maintain their nutritional value and flavors and can be kept on hand much longer and in any season. Find your favorite fruits and veggies to keep in your freezer for smoothies and more!

SHOP NOW
Sweet Treats
Our selection of delicious ice cream flavors will satisfy any craving whether it's for fruity blends or indulgent flavors. Scoop and serve in a bowl or cone, or choose easy-to-eat popsicles and ice cream sandwiches!
SHOP NOW
Heat and Eat
Choose from a variety of appetizers, entrées and snacks that are convenient to keep in your freezer for when you need food in a flash!
SHOP NOW
Rise and Shine
From sweet waffles to savory breakfast sandwiches, make mornings easier with frozen breakfast options.
SHOP NOW