Made Fresh Here
Schnucks Bakery
Our Bakers are up early making over 200 items fresh daily at you local Schnucks Bakery. We have fresh-baked items for every palate and every party. Shop our Bakery Department in store for fresh-baked breads, delicious desserts, custom cakes, muffins and more.
Planning a party? Indulge everyone's sweet tooth with our assorted sweet treats made to serve a crowd. Order online or talk with a Schnucks Bakery teammate.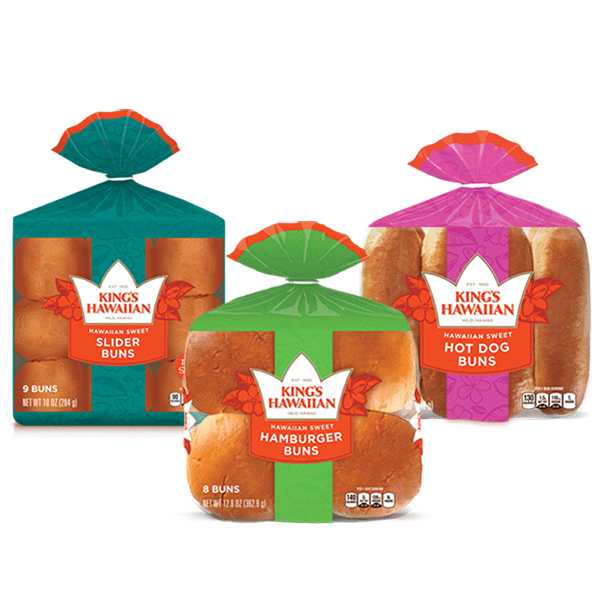 Save 25%
KING'S HAWAIIAN®
Select Buns
Clip by May 25, 2021
Use by May 25, 2021
Details
25% off Select KING'S HAWAIIAN® Buns (8-9 ct. pkg.-Hamburger, hot dog or slider buns)-Limit 5 per account
Limit of FIVE per redemption per coupon. Identical coupon, including a digital or paper coupon, may not be used in same purchase transaction with this coupon. Limit one use of this coupon or identical coupon per account. Any other use constitutes fraud. Coupons are not authorized if purchasing products for resale. Coupons not valid on schnucksdelivers.com. VOID if transferred, sold, auctioned, reproduced or altered from original. You may pay sales tax.
ORDER THE PERFECT CAKE
Choose from our large variety of sizes and flavors. We bake specially themed cakes, custom photo cakes, simple cakes and, of course, you can build your own cake. Tell us what you want and we'll make it!
CUSTOMIZE A CAKE
Celebrate Baby's 1st Birthday with a Smash
When you purchase a baby-themed quarter sheet cake or larger, Schnucks will give you a free petite Smash Cake just for baby to enjoy. Just think about all of the photos you can take of this smashing moment!

Visit your local Schnucks to place an order with a Bakery teammate.
Find Your Store
Fresh Baked Goods
Find a great collection of fresh-baked cookies, custom cakes and other decorated desserts created specifically for Schnucks customers. From birthdays to baby showers, bat mitzvahs to book clubs, we have the perfect treat to sweeten your event.*
*Products subject to availability.
BAGELS
Our bagels are baked fresh in each store, every morning, by our Bakery teammates. We offer a large variety of flavors every day. Serve a bagel platter at your next meeting.
VARIETIES
Plain, Honey Wheat, Cinnamon Raisin, Blueberry, Everything, Sesame Seed, Jalapeno, Poppy Seed, French Toast, Asiago Cheese
Baked Goods
We know you'll love our delicious baked goods! Our tasty danish, coffee cakes and pudding cakes are perfect for morning treats or for any occasion! Our selection varies by store, so please be sure to check with one of our Bakery teammates for more information.
BREADS
Every morning our bakers arrive early to bake up some of the best breads, soft or crusty. Our fresh loaf & pan breads, mini loaves, and specialty breads are baked in-store every day.
VARIETIES
Rye, Pumpernickel, Multi Grain, Vienna, Pane Italiano Bread, French Baguette, Crusty French, Challah Bread, Sourdough, Brioche Artisan Breads and more.
CUPCAKES & BROWNIES
Our cupcakes and chocolate brownies are the perfect sweet treats for school events, office parties, birthdays and more! Talk to a Schnucks Bakery teammate for all available cupcake options (including specialty cupcakes) at your neighborhood store today!
VARIETIES
Cupcakes: White, Yellow, Chocolate, Red Velvet, Carrot
DONUTS
Our donuts are made fresh in our stores every morning. Choose from a variety of Yeast Raised Donuts or Cake Donuts. We have new fun flavors like Happy Camper, Goldfinger and the Cinnamon Challenge. Call or talk to a Bakery teammate today to order donuts for your next event!
VARIETIES
Yeast Raised Donuts: Glazed, Cinnamon, Long John, Jelly, Tiger Tails, Twist, Fried Danish Donut, Fried Croissant, Bismarks, Fritters
Cake Donuts: French Cruller, Buttermilk, Devil's Food, Blueberry
GOOEY BUTTER CAKE
Try St. Louis' best-selling Gooey Butter Cake to find out why it's such a local favorite! From taste to texture, you're going to love our baked fresh in store gooey butter cake.
LOAF CAKE & MUFFINS
Your breakfast is ready already at your local Schnucks! Wholesome, fresh and full of chewy goodness, loaf cakes and muffins are great for a quick morning breakfast or any occasion.
VARIETIES
Muffins: Blueberry, Banana, Raisin Bran, Lemon Poppy, Chocolate, Cinnamon Crumb
Loaf Cakes: Plain, Lemon Blueberry, Apple Cinnamon, Banana Chocolate Chip
Selection varies by store.
PIES, COBBLERS & CHEESECAKE
Let us do the baking! Our fruit pies have tender, flaky crusts and are filled to the brim with fruit. Want something a little richer? Try one of our cheesecakes!
VARIETIES
Pies: Apple, Cherry, Peach and more.
Cobblers: Apple, Cherry, Peach, Blackberry
Cheesecakes: Original, Chocolate Lovers, Strawberry, Variety Sampler
Meringue & Cream: Meringue Pies, Cream Pies, French Silk Salt Caramel
ROLLS & BUNS
Our freshly baked rolls and buns are perfect for holiday events, special occasions or tonight's dinner. Talk to a Bakery teammate or call ahead to place large orders!
VARIETIES
Popular Rolls: Premium Dinner Rolls, Dollar Rolls, Onion Rolls, Bolillo Rolls, Butter Flake Rolls, Kaiser Rolls, Ciabatta Rolls
Buns: Hot Dog, Hamburger, Brioche and Pretzel Buns
WEDDINGS & EVENTS
Order your wedding cake from Schnucks! Choose from a large variety of colors, styles, tiers and more. Our Bakery teammates will be happy to answer any questions and help you place your order.
LEARN MORE